Bathrooms always have been the place where we prepare to face the day in the morning, but they've increasingly evolved into restorative retreats for unwinding and recharging. What are today's homeowners looking for when upgrading their bathrooms? Expansive showers surrounded by glass, stone countertops, and a spa-like feel of comfort and relaxation are in for 2016. Here's a look at today's bathroom design elements that are in style.
Expansive Showers
It wasn't long ago that Jacuzzi tubs were the luxury master bathroom upgrade of choice for many homeowners, but would you be able to count on one hand how many baths you've taken in the last year? More and more consumers and remodeling professionals are agreeing, and recent trends show many leaning away from tubs in favor of roomier showers with multiple heads and features.
In a recent survey conducted by Houzz, more than 84% of master bathroom remodeling projects in 2015 included an upgrade to the shower. And while overall bathroom size generally remained steady, 67% of those survey respondents upgrading master showers are increasing their size, with the Northeast leading the U.S. (72%).

Innovations in shower design have led home owners to opt for a luxury item that can be used every day. Showers today are more spacious and can provide relaxing and soothing elements such as multiple body sprays, rainfall shower heads and even steam.
Frameless Glass
Glass can brighten up and enlarge the feel of a small bathroom, or simply add a touch of class to enhance your bathroom and add value. Less is More when it comes to shower doors, and upgrading to a frameless door eliminates any unsightly thick metal framing that comes with traditional framed doors.
In a recent project, Peter Mergen, Mergen Home Remodeling president and lead, led the redesign of a bathroom in Huntingdon Valley, PA that included modern amenities such as his and hers vanities, stainless steel fixtures, and of course a frameless glass corner shower. "Frameless glass for the master shower is quickly becoming one of the most desired upgrades," says Mergen. The shower is often the centerpiece of the bathroom, "the star of the show", so homeowners looking to upgrade their bathroom this year should consider how frameless doors could enhance their space.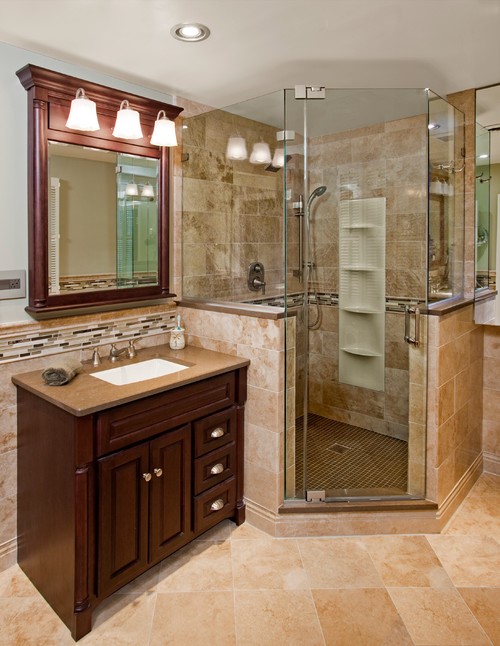 .
Stone Sinks and Quartz Countertops
Natural stone gracing your bathroom adds style and flair to your home, as well as enhancing its value. Stone sinks are extremely versatile and low-maintenance in addition to being a uniquely aesthetic addition to any bathroom space. Quartz is a great solution for those who enjoy the natural look of stone but not the wear-and-tear that can harm it, with unmatched durability, low maintenance, and great resistance to scratches and stains. 
Mergen Home Remodeling is a team of professional remodelers that wants every home owner to get the most out of their space. To learn more about how Mergen Home Remodeling can transform your bathroom, please contact us at info@mergenhomeremodeling.com or at 215-942-8750.