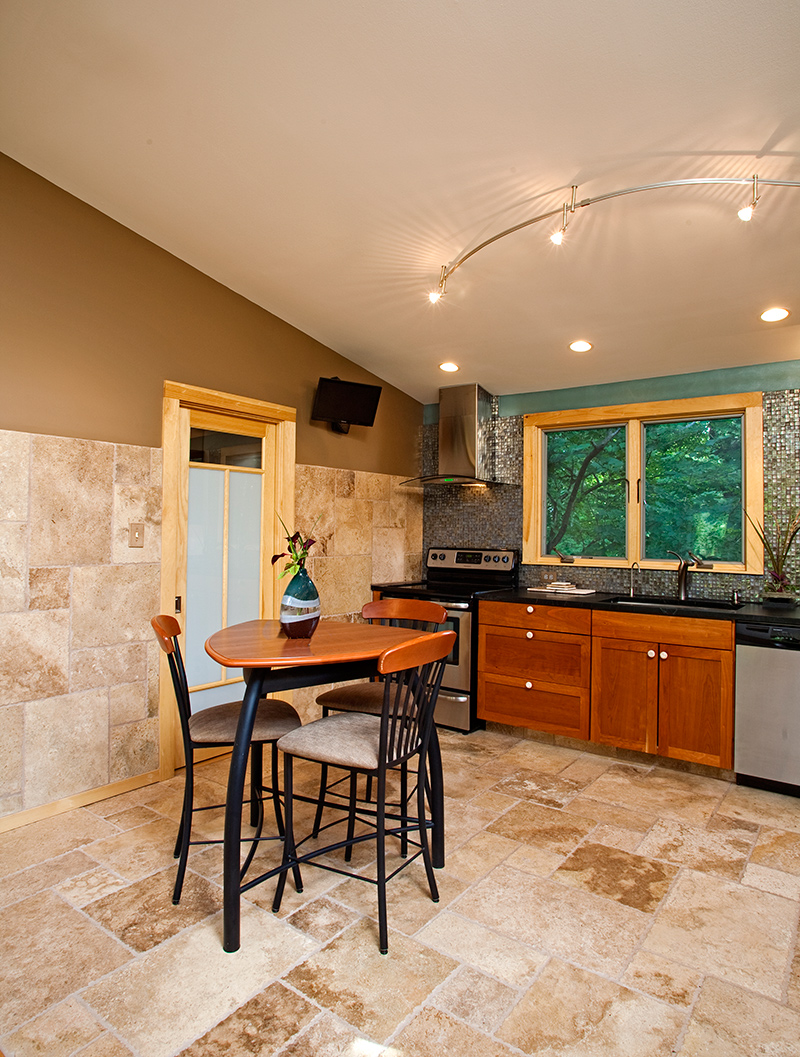 In listening closely to our clients over the years, we know that many other remodeling contractors simply do not listen and do not keep their promises, and that many building and remodeling projects are marred by delays, mistakes, and misunderstandings, due to poor planning, haphazard methods and poor communication.
At Mergen Co. Inc. we promise you an entirely different experience. If you choose to work with us for your next remodel or addition you'll experience a team knowledgeable enough to answer your questions and provide sound advice and practical suggestions, a contractor who is sensitive to the disruption the project will cause and is available and responsive to your questions and concerns, and workers who are clean, courteous and treat your home with respect.
If we have the honor of completing a remodel or addition for your family, you will be guaranteed the following:
01

If we make an appointment, we will be on time. If for some reason we can't be on time, we will call ahead.

02

Your calls will be returned promptly. When we do talk with you we will listen to you, so that we understand what you want and need.

03

You will be given honest feedback, sound advice and practical suggestions when appropriate. Your questions will be answered to the best of our ability. If we don't know, we'll say so. If we can't meet your construction needs, we'll tell you.

04

In our estimates and proposals for home remodels and additions, we will describe the work in sufficient detail so that you know what you're getting. We will provide drawings and plans where necessary.

05

When we give you a start date for construction, we will start on that date. If there will be a delay due to weather or other unforeseen circumstance, you will be promptly notified of the change

06

If our subcontractors or crew make a mistake, we will accept responsibility and be accountable for it.

07

Your floors and your furniture will be fully protected. Dust and dirt are an inevitable part of most remodeling projects but our subcontractors and crew are diligent about exercising their best ability to contain and minimize dust migration to other parts of your home.

08

Your home and yard will be treated with great care. We will maintain a tidy job/work site, clean up at the end of every construction day and remove trash that is not in a dumpster on a regular basis.

09

You, your space and your belongings will be treated with privacy, sensitivity and respect to the best of our abilities. We will check in with you on a regular basis to see how we and our work are affecting you.

10

Only workers who are clean, courteous and qualified will be sent to your home.

11

Once we begin your project, we will make every effort to continue the remodeling work on a daily basis in order to complete the work on schedule. You will be kept informed about the progress of the remodel project, and given timely notice of any schedule changes or hidden damage encountered.

12

Near the end of your project, we will walk through with you to ask you if there are any items that do not meet with your approval. You will not be asked for final payment until you are completely satisfied.

13

The work we do will be clean, consistent and of high quality. We stand behind our work with a guarantee. If there is a problem with our work that shows up within one year of completing your project, we will fix it promptly with no arguing and no excuses.