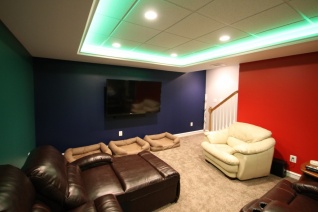 When you are planning a home remodeling or finished basement project, you need to trust that the company you partner with will not only be able to do the work correctly, but also help you with the design, secure the best materials for the money and do all of it in a reliable time frame.  At Mergen Company, our experienced professionals are familiar with working on home remodeling projects all throughout Bucks and Montgomery County.  Let our knowledgeable staff discuss with you the best way to get what you are looking for out of your home remodeling project.
One of the best uses of your remodeling dollars is a project to refinish your basement.  As an extension of your existing living space, it is an additional floor of possibilities within your home.  Add entertainment space, an additional room for guests, a dedicated area to watch a flat screen tv or even a man cave.  The choices of a well done finished basement are endless!
Planning is important and we encourage you to allow our professionals to do an in-home survey of your existing basement space and get involved in your design ideas. From there, we'll incorporate your space requirements and revise as needed until everything is right.
Bring your lower level to life with a complete basement remodel and features like decorative pole covers, recessed lighting fixtures, and soffit enclosures to hide duct work and piping. When you're ready to have your home truly finished, give Mergen Company a call (215-942-8750) or schedule a consultation to get the basement renovations you've always wanted.