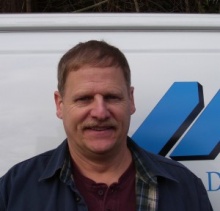 Kris attended the Academy of the New Church College for 2 years, and started working full time for Mergen Co. in March of 1978.  Starting as a carpenter's helper, he became a lead Lead Carpenter (project manager) and served in that capacity for most of his career.
Peter Mergen asked Kris to become Production Manager in 2007, and he now schedules jobs, supervises one to four crews, coordinates subcontractors, writes change orders and estimates added work during ongoing jobs.  Although Kris loved working in the field, he felt good that Peter trusted that he could learn and grow in a new direction. Kris still gets to pick up his tools and pitch in occasionally.
Kris loves hearing how happy clients are when projects are finished! He gets satisfaction knowing they feel that their money was well spent.
Kris is a member of the Bryn Athyn Fire Company since 1977, and a member of their board since 1982.  He served as volunteer Fire Chief for twelve years, and continues today as a volunteer Assistant Fire Chief.  He lives in Huntingdon Valley with his wife and best friend Nancy, where they raised their daughter Blair and son Kyle.  Now, Kris and Nancy babysit the grand-dogs while Blair and Kyle vacation with their significant others.