Watch as we add a bedroom above this garage. The roof will come off, the chimney will come down, then… a bedroom addition will go up!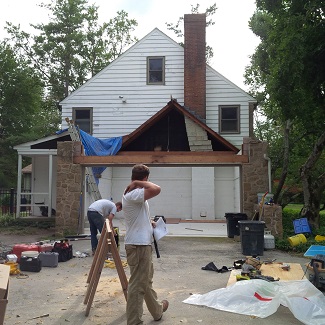 The garage roof has been removed and preparations are being made to remove the odd looking chimney. A much different look, and more changes to come.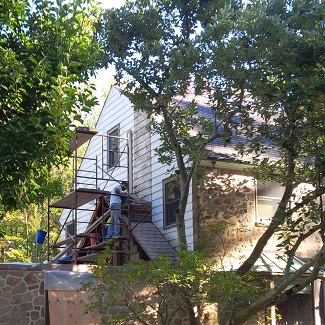 The chimney is almost down making way for a doorway to the new room.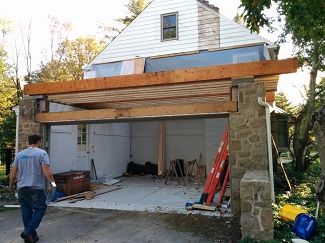 A good strong foundation is where a good addition begins. With the old roof and chimney having been removed, the framing for the new floor is now in place. The home owner wants a good, stiff floor, so the floor joists are what is recomended by code but the spacing is 12″ on center, instead of the usual 16″.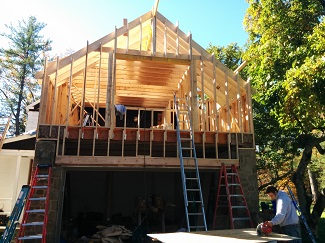 Now that most of the framing is complete we can see what this bedroom is going to look like. If you look closely at the right side of the roof you can see where there will be a dormer poking out the right side. This will be a big bedroom with lots of closets!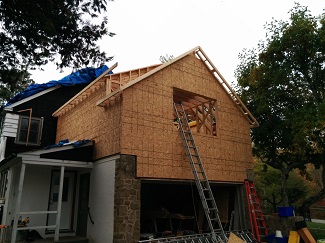 Every step makes a big difference. Soon there will be a roof, windows, siding and paint. The views from this room will be some of the best in the house. There will be a nice size window in the small dormer in the front. In the opening we see here, there will be a picture window flanked by two casements. The back side (to the left) there will be two double hung windows.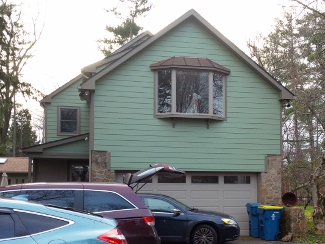 WOW!
What a difference it makes finished.  A large beautiful bay window with raised seam copper roof to match a bay window in the front of the house, the garage door reinstalled and fresh paint on cement board siding and mahogany trim.  This is just part of the work this family had done.  The whole house was renovated including a new kitchen, refinishing the hardwood floors and a finished basement.